Reduce Energy Loss – Improve Durability – Save Money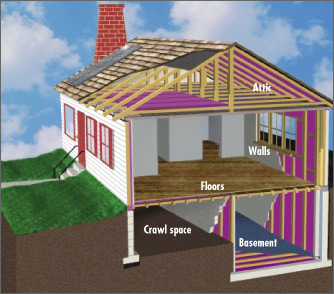 Before you design a new home or remodel an existing one, you should consider investing in  its energy efficiency.  And now you can do so using Eco-Friendly Products and Applications.
You'll save energy and money in the long run. It's also a good time to invest in a renewable energy system that will provide your home with electricity, water heating, or space heating and cooling.
Energy Efficiency is one of the most sought after results of home improvement projects that consumers have come to expect these days.  We all want to increase our homes thermal performance, especially with todays rising heating and cooling costs.  Whether you need new windows and doors, siding, insulation, a new furnace or even a new roof, you can now do so using the highest quality products that are guaranteed to make your home more energy efficient.
Insulation
Adding insulation is one of the most important steps you can take to improve the energy performance of your home and lessen its environmental impact. Space heating and cooling consume 44 percent of all energy used in the home, according to the Department of Energy. Adding a few hundred dollars worth of insulation can reduce your annual heating and cooling bill 10 to 30 percent. With the average U.S. household spending about $650 per year on heating and cooling, and as much as 5 times that in warmer and colder climates, the investment in additional insulation can pay off quickly.
There are a wide variety of insulating products on the market today.  Choosing the one that is right for you should not always be determined by who has the lowest price.  Some of the best insulation available can cost up to 40% more to install but will pay for itself over and over in the long run.
What are the Benefits of a Cool Roof?
There are numerous benefits in having a cool roof:
1. Increase ecological sustainability factor, or make your house "greener" by:
2. Reducing your utility bills associated with air conditioning
3. Increasing occupant comfort and avoid installing an air conditioner where there isn't already one
4. Decreasing the size and prolong the life of your air conditioning system
5. Lowering roof maintenance costs and extend roof life, avoiding reroofing costs and reducing solid waste
6. Assist your home in meeting building codes
7. Mitigate your community's Urban Heat Island Effect
8. Maintain aesthetics with a roof that performs and looks good
9. Receive utility rebates (in some locations)